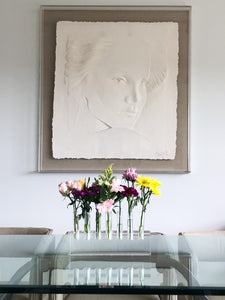 Petite City Block Party Base
Your celebration just got a major upgrade! The Petite City Block is unique to tōst and co. and we are so excited to share this exquisite piece with you! 
Dimensions:
This block is solid acrylic 12 inches long by 3.25 inches square.
One side with 10 standard taper candle spaces. 
Details:
This purchase contains the BLOCK only. If you would like candles, please add a selection from the Candle Collection. Posy Pipettes are also sold separately.

Care: 
DO NOT USE:
Water
Ammonia-based Cleaners
Windex
Lysol Wipes
Abrasive Sponges
Brushes
NOVUS Plastic Clean and Shine
NOVUS Plastic mates 
Ice cubes in a bag for soft wax - let it harden and then gently pop off the wax 
Accessories:
Posy Pipettes will fit in regular taper candle spaces.
What is a Posy Pipette? You'll love these petite glass vases for floral fun! Posy Pipettes fit in regular taper spaces, so you can mix in candles and flowers for a unique look!